AJ Jolly 50th Anniversary - Wine and Craft Festival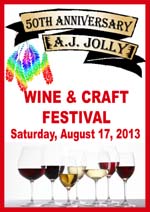 A. J. Jolly Park in Alexandria (Campbell County) is planning their 50th Anniversary Celebration with "something for everyone".
A number of activities are in the planning stages – concerts, bands, fishing derby, canoeing/kayaking, Farmer's Market, tree climbing, lots of food, face painting, biking, nature walks, horse trail challenge, craft vendors, historical booth and a wine festival!
Saturday, August 17, is the date of the celebration with the crafters scheduled from 11:00 am. - 7:00 pm. and the wine festival scheduled from 2:00 p.m. - 9:00 pm.
Attention Crafters:
e-mail: jackie@nelsonstents.com
or by Phone: 859-743-4658
Hidden Treasure